Yes, I do enjoy linguistic ignorance from time to time. I met with a Turkish Couchsurfer when I was in Istanbul who generously spent two days showing me the city via the Bosphorous ferry and a drive along the Golden Horn. He wanted to give me a crash course in the Turkish language and I had to explain that after almost two weeks in Kyrgyzstan, where I was speaking in Russian all the time and sometimes interpreting (one of my most loathed activities), I wanted to be in the bliss of linguistic ignorance and understand little to nothing of what is said around me. My brain needed a break. When you are in a city as beautiful as Istanbul, and so full of history, just soaking it in is a delight.
Here are some photos of what I enjoyed looking at and admiring.
When I walked into the Hagia Sophia, I wondered, "Why do so few Americans have passports?" With wonders like this former cathedral that became a mosque under the Ottoman Empire, reasons abound to travel the world.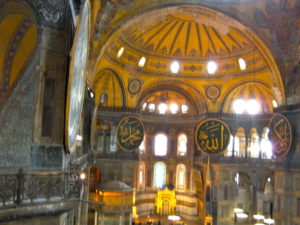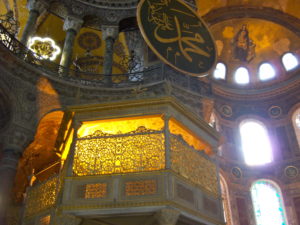 A little language fun…
Palace doors along the Bosphorus. I adored walking along the Bosphorus and appreciating the ornate doors of the old palaces.
Ignorance is bliss!