Travel Happy, Budget Low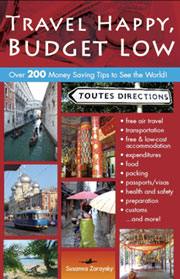 Buy an autographed copy of Travel Happy, Budget Low. For US and Canadian Buyers, $10, shipping $2.
For International Buyers, $10, shipping $6.00
Free shipping worldwide with Book Depository. (Cost of book $12.)
The books are also available on Amazon, BarnesandNoble.com and via order through your local bookstore.
Get the e-book version on Smashwords or on the Amazon Kindle site.
Read part of Travel Happy, Budget Low on Google Books for free.
Travel Happy, Budget Low informs you how to travel economically in planes, trains, and buses, how to find inexpensive meals, and how to book inexpensive hotel rooms or stay for free with locals. The more than 200 tips and 160 website resources cover the topics of frequent flyer mile tricks, health/safety, expenditures,packing, passports/visas, preparation, customs and more.
Watch a video about Travel Happy, Budget Low
Some of the best things in life are free.
You just have to get yourself to those places or events in an economical way. Beijing's Forbidden City and Iguazu Falls in South America took my breath away. It doesn't cost a fortune to experience the wonders of our planet, just some planning and thinking. This book does a lot of the work for you. The most costly elements of travel are transportation, lodging and food. Budget travel does not mean you will spend weeks on rickety old buses with no ventilation or spend the night in run-down hostels.  You don't have to sleep in bus stations. (I've only done it once!)You will realize that you too can see Paris, The Great Wall of China, the Vienna Opera, and other great sites without breaking the bank. Enrich yourself culturally without being rich!
Advance Praise for Travel Happy, Budget Low
"Susanna has written a digestible, yet comprehensive, guide to help travelers save money, be comfortable, journey light and stay happy in the process!"
-Beth Whitman, author of the Wanderlust and Lipstick guides for women travelers
"Susanna is able to combine her personal experience to give the reader some essentials in seeing the world on a budget.  This book will enable many folks to see more of the world for less."
-Albert Yu, Group Sales Manager, Four Seasons Silicon Valley
"A practical read and must have for any budget conscious traveler. Share in Susanna's experiences and learn from her mistakes to become a savvy globetrotter. This book is for both beginners and experienced travelers, with a wealth of tips and resources covering all areas of travel."
-Kristine Ng, co-founder of Esplora, an online resource and social networking site for women travelers