Language is Music
Buy autographed c
opies of Language is Music for $10.
For US and Canadian Buyers, $10, shipping $2.00
For International Buyers, $10, shipping $6.00
Free shipping to many countries with Book Depository. ($11 book price.)
The books are also available on Amazon, BarnesandNoble.com and via order through your local bookstore.
Get the e-book version on Smashwords or on the Amazon Kindle site.
CLICK HERE to read part of Language is Music on Amazon for free.
Language is Music was featured on the MTV website!
Language is Music: Over 70 Fun and Easy Tips to Learn Foreign Languages
Cost effective language learning. With more than 70 free and low cost tips and 90 plus Internet resources, you will learn to speak a language without spending a ton of money on plane tickets, tutors and intensive language programs. You don't have to leave the country or even leave your home.
Learn faster than from the traditional "memorize and regurgitate" lessons used in schools and universities.
The language becomes part of your daily life. The new language is alive and not just a list of vocabulary words.
Created by a self-made expert. Without expensive tutors or intensive language classes abroad, I naturally learned seven languages with these techniques.
Language is music. Music moves the soul.
Expand your soul. Discover a new soul.
Are your foreign language classes and grammar books boring you to tears?
Do you want to improve your accent?
Our souls ignite our passions, inspire our dreams, and power our lives. A new language opens you to a new existence and way of seeing the world. Are you ready to grow?
Learning foreign languages is like learning to play music or sing a song. You don't even have to be a good musician. I was a mediocre music student; however, I learned to speak English, Russian, French, Spanish, Italian, Portuguese, and Serbo-Croatian with excellent accents because I internalized their melodies and recreated them like I would a new song. I did it without expensive language classes abroad or private tutoring. You can do it too!
I am sharing my free methods so more people can be successful multi-linguists and expand their horizons. The world yearns for more communication between people.
Click here to read Myths about Foreign Languages
Praise for Language is Music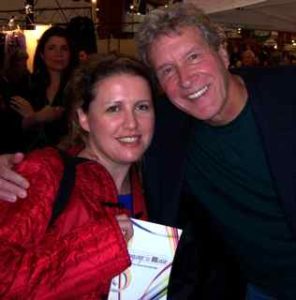 Susanna Zaraysky and John Perkins at the San Francisco Green Fest with Language is Music.
Language is Music is music for the mind! Susanna Zaraysky has crammed this little book (less than 100 pages) with big ideas about how to learn a language, including a multitude of extremely practical tips and applications. As one who has dabbled in many languages and speaks a couple fluently, I highly recommend it for anyone who wants to speak another language.
-John Perkins, New York Times Bestselling Author of Confessions of an Economic Hit Man
Language is Music describes the best of the various ways one can learn a
language.  We can learn grammar and vocabulary lists in school and come away
with a stilted, academic manner of talking, where we translate everything
into English before understanding it.  Or we can learn by hearing the
language being spoken in the context of every day, and immersing ourselves
in the sound and the "music" of the language.  This kind of learning gives
us a deeper intuition of the language and what sounds "right" and "wrong" in
it.   The ideas espoused in Language is Music can help anyone develop a
better ear for a foreign language and speak with a better accent.  I highly
recommend it for anyone looking for a way to enhance their foreign language
learning and improve their accent.
-Gigi Swenson, President Music Lingua LLC
I am a French instructor with many years of teaching experience.  I currently teach at De Anza College, located in Cupertino, California. When a new class begins every quarter, the class community discusses which strategies will help students progress in the acquisition of a foreign language.
An important part of my contribution to the discussion is the mention of Susanna Zaraysky's book: Language is Music.  I recommend this book without any reservations to anyone studying a foreign language with the intention to make rapid progress and to become fluent in the language. I find Susanna's strategies to be very efficient and I use them in my teaching.  For example, for every chapter in the textbook, I select several French songs that the students can use as a way to reinforce the structures or the themes that were key elements in the chapter.  The students can listen to the songs on their own time outside the classroom, and watch the videos (on YouTube) as often as they wish. I have definitely noticed a difference in the success rate of the students who use the songs as part of their "homework".  Their vocabulary and fluency improve dramatically in a matter of months!
- Marie-Hélène Dickman, French Professor at De Anza College
Susanna Zaraysky's Language is Music book is music to my ears, to my trying-to-speak-other-languages-fluently tongue, my brain, my whole body. In this small book, she gives a wealth of practical suggestions about how to learn another language in a pleasurable – and efficient – way. Speaking from my own experience, I know that what Susanna says is true. My own books, Sing it! Learn English through Song, have helped thousands of people around the world learn English in a pleasurable way that sticks. Susanna expands on this pedagogy by offering countless up-to-date tips for tuning in. Get her book and see for yourself!
- Millie Grenough, Author of award-winning Sing it! Learn English through Song
"I love it! I think it will help people who want to learn, and those who are curious about additional language learning. Many people want to learn a language but are frightened, or disappointed by the courses they have taken. Reading Language is Music will encourage them to try again, on their own and with friendly supporters."
-Dr. Elba Maldonado-Colon, Professor Department of Elementary Education Bilingual Program, San Jose State University
"LET IT JUST ROLL OFF YOUR TONGUE.
With lyrical insight and solid experience, Susanna Zaraysky, author of Language is Music, provides easy steps for learning a language. Gone are the boring, disconnected strategies that most of us remember from school. You've never learned a language this quickly and easily. Zaraysky's methods embody fun, connection, rhythm, and above all…music."
-Suzanne Lettrick, M.Ed Educator and Founder of The Global Education and Action Network
"Forget dictionaries and phrase books . . . Susanna Zaraysky's easy-to-use guide to language learning is indispensable for any serious language learner wanting to become fluent–not just conversationally proficient–in another language. Language is Music will teach you how to make language acquisition a part of your daily life, and to recreate the kind of total-immersion environment necessary for fluency. Highly recommended reading for aspiring polyglots. Pick up this book and you too will be all ears!"
-Justin Liang, Japanese, Mandarin, Cantonese, Marshallese, intermediate Spanish
"Back in France, I spent many years learning "academic" English in school. But I progressed much faster when I forced myself to listen to the BBC or not look at the subtitles when watching an American movie. I wish I had Susanna's book with me then. It's full of creative ideas and practical tips that are indispensable complements to the traditional methods of learning foreign languages — and it's coming from someone you can trust, she speaks so many of them!"
-Philippe Levy, French native speaker
"This book is great. It showed me another aspect and a new approach of learning a language. I will put the book to good use. As a foreign English speaker, I spent many years at school learning English and did not make much progress. A lot of the tips that I read in this book, I learned them with time. However if I had read this book earlier, it would have made my life much easier and I would have saved so much time. I am going to apply the tips in Language is Music into learning a third language: Spanish. This time, I am sure I will make huge progress much faster. Not only is Language is Music useful in acquiring a foreign language, but the resources and websites in the book are valuable for someone who wants to travel abroad."
-Fabien Hsu, French native speaker